BORN AND BRED IN CALIFORNIA
Felt Bicycles was founded in California, a land of pioneers, entrepreneurial mavericks, technology-driven mavens, and the most passionate outdoor fanatics you'll find anywhere. Since 1991, we have strived to be the most innovative cycling company on the planet. That's been our guiding principle. And, our targeted goal is to help each rider ascend to a world championship victory, surpass a personal record, or achieve a perfect ride on the parcours of their liking. We are devoted to creating the finest cycling experience in the world because we love nothing more than bikes and what they can bring to the human experience. From conquering an alpine climb to descending technical singletrack, from the thrill of racing to the forging of camaraderie on a group ride with friends, nothing compares to the act of pedaling. Wherever you are in your two-wheeled journey, we invite you to join us for the ride.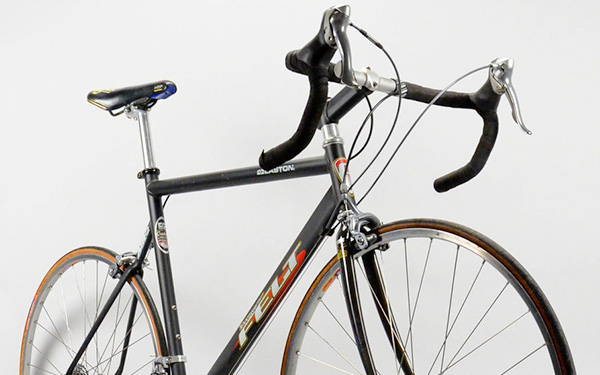 An early Felt bike shows the trends of the time.
Paula Newby-Fraser was Felt's first sponsored athlete, beginning our long association with the sport's top performers and women athletes.
HISTORY
Our namesake was an engineering rebel who forged his own path through the complex world of bicycle design, establishing an ethos of always doing things the right way, and never just the easy way. Together with a tough-as-nails entrepreneur who mandated that everything our team set out to achieve must focus solely on the rider experience, along with a mad scientist whose obsession to detail is tangible in every product we create, they assembled a ragtag team of misfits from all avenues of the cycling, outdoor, aerospace, and consumer tech industries to form a collective of the most ambitious bike enthusiasts in the world. Felt Bicycles has thus grown from humble beginnings in a Southern California garage to a globally recognized creator of the best performing bikes on planet earth.
Our genesis emerged through a radical departure from the bicycle design norms of the late 1980s, where high-performance frames were often visually indistinguishable from one another and homologous when it came to performance due to an overall lack of aerodynamic efficiency compared to today's standards. As countless frame makers experimented with new materials and unorthodox aesthetics, Felt Bicycles focused on function over form, on a painstakingly iterative design process, and on adapting the bike's characteristics to the fit needs of the rider, rather than the other way around. The finest example of this early commitment to the rider was our work with legendary triathlete Paula Newby-Fraser. After winning three world championships at Kona, Newby-Fraser knew that a younger, hungrier crop of up-and-comers was nipping at her heels, so she sought additional speed from her equipment. Her stealth black B2 model, one of our earliest creations, with its stiff pedaling interface and a riding position that both optimized aerodynamics and maximized pedaling power, carried Newby-Fraser to a fourth world championship.
Throughout the next few decades, the legend of Felt Bicycles grew, as did our reputation as a purveyor of high-performance machines, all designed to elevate the riding experience through practical engineering, the very best materials, and zero marketing hogwash. The results speak for themselves. Felt bikes have been ridden to stage wins at all of the Grand Tours, record-breaking triathlon world titles, Olympic gold medals, and world championships on the road, trail, track, and cyclocross racecourse. Belying this success, Felt Bicycles remains a relatively small operation in Southern California, committed to its core guiding principles and the passionate riders were serve. Year-round sunny weather and pristine riding conditions coupled with in-house engineering, research and development, and prototyping, allow us to test and push new iterations each and every day, finely tuning the latest crop of bikes for the season to come. We've never done things the easy way, only the right way. And we put the rider's needs first to create the finest cycling experience possible.